2012's May Bank Holiday event didn't go quite to plan, but it was successful anyway!
With two days to go it looked like we'd see absolutely no wind for the event on Sunday! Well, about 2 knots maximum, to be precise. A global email to members and an update posted on our website enabled us to postpone until Monday 7th May - a good move. Monday was F4 mostly planing conditions on 7.5m sails from mid-morning until lunchtime, but then it dropped to a light F3, or sometimes just F2. Even so, we had about 30 people sailing during the day. The midday Master Blaster race went down well - everyone in a wetsuit was encouraged out onto the water. We started 'Le Mans style' from on the shore and sailed across the reservoir to the boat and back. Dave Martin took first, Andy Pepper 2nd and Steve Collier 'snatched' 3rd (no, I'm not bitter). A few sailors persevered through the afternoon, hoping the wind would return - it didn't. At less than 8C later in the day, staying on for a barbecue didn't seem to feature in anyone's plan! Camping was less than popular too. Ah well, at least we got plenty of sailing in - Dave Martin's target was to sail for 8 hours, so he was still at it at 6pm, the only one still on the water.
Saturday - plenty of kit, but little wind and few customers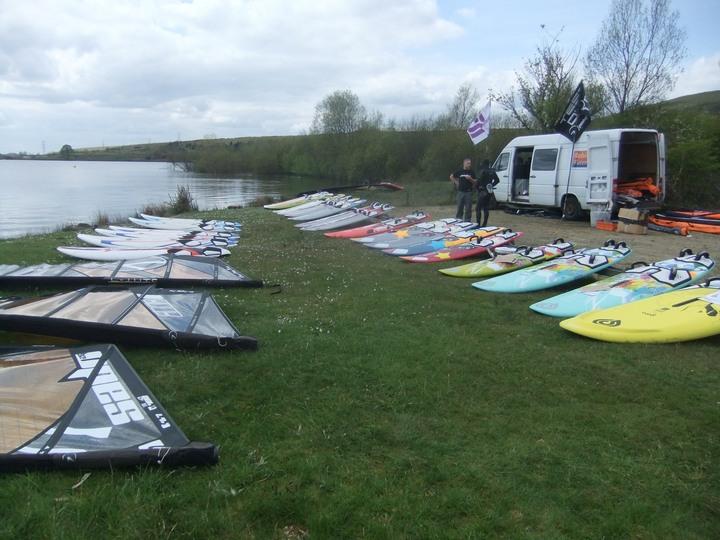 Dave Martin rigs his new race sail Start of the Master Blaster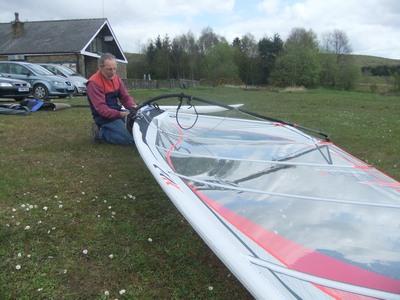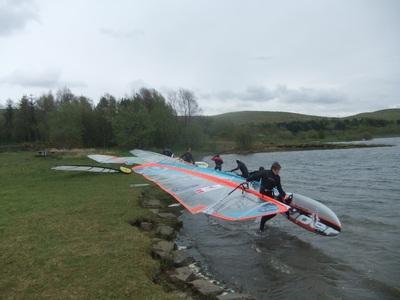 Approaching the mark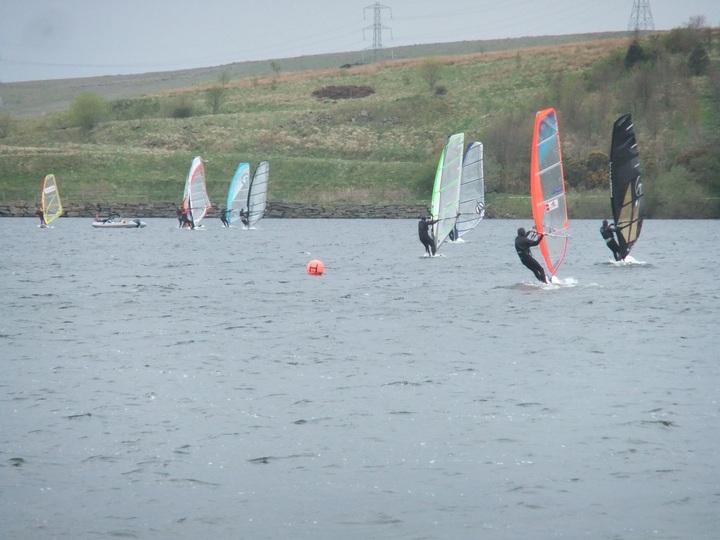 Winner - Dave Martin 2nd - Andy Pepper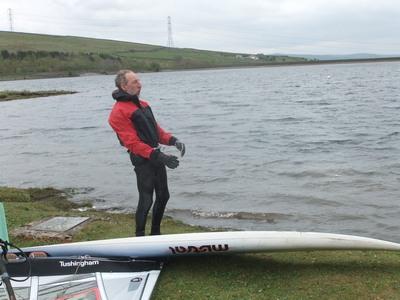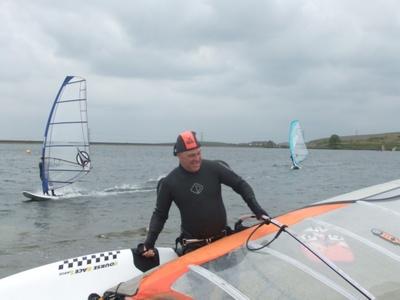 We'll let you know in a little while how much money we raised for Cancer Research - probably several hundred pounds through sponsorship, contributions on the day and visitor day ticket proceeds which the Club donated as well.
Robin Hood came on Saturday (sadly, few people and only light wind) and again on Monday with a wide range of demo kit for members and visitors to try out. This was as popular as ever.
It's easy to overlook the effort that goes into organising events at the Club. Let's not. Dave Martin sorted things out with the national W4CR organisers and with Robin Hood. Paul Norman did some sterling work in the galley on two days, serving up bacon butties and the curry provided by Carolyn Kell. David Kerr manned the boat and arrived early to unlock and ready things, helped with maintenance and generally by Andy Pepper. John Lymer got the 3 licenses we need for playing music (even though in the end we didn't!) as well as sending off a press release, keeping members informed and updating the website. Mike collected the money. Thanks too for the cakes - Hilary Martin and Trudy Lymer. There were probably other helpers too - we really appreciate it!