Details

Last Updated: Sunday, 04 November 2018 20:46
Latest Happenings ....
Working Party - our thanks go to the 4 members and handful of committee members who did some sterling work on 4th November! Pot-holes have been filled, the paved area around the clubhouse cleared of vegetation, the boat and its trailer wheel are fully inflated and some of the saplings on the headland have been cleared. Just think what we could achieve if more members would turn out on such days or do a bit on other visits!
Wind Speed - the bearings of the anemometer seem to be worn so it's not rotating as it should. We'll investigate a fix or a replacement but be patient please.
7 went to Fleetwood - a good session on 30th September - read more and see photos .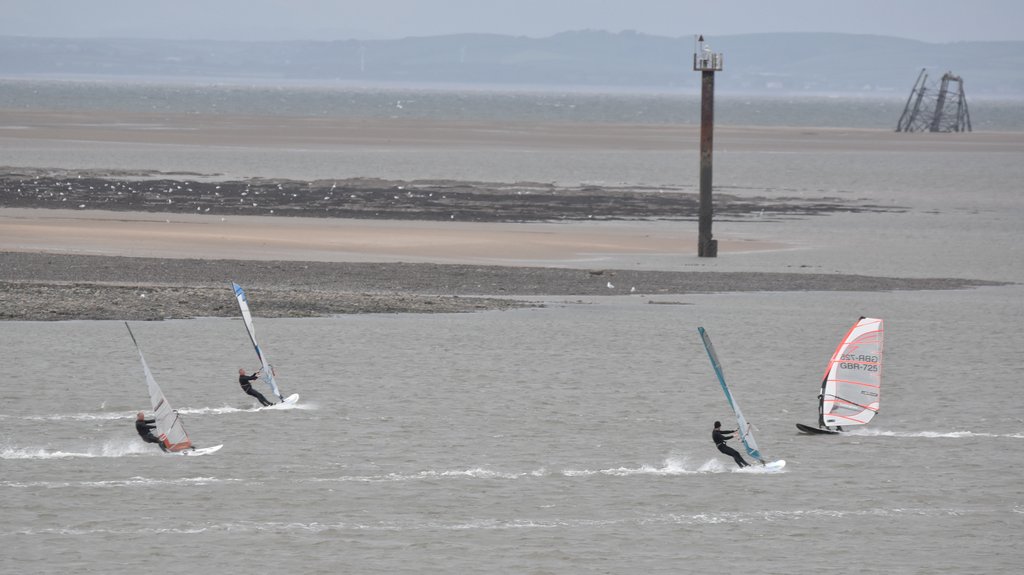 Water Level - you asked for some photos of the current reservoir level and we deliver! See a few photos here .
Mains electricity now installed! The club now has a permanent electricity supply and the generator has been removed! That's pretty momentous stuff for us as a club and will simplify operation of a few things. Please continue to use the control box in the foyer though - that ensures that the system will still time-out so it's not costing us if lights, heaters etc are left on by accident when you lock up and leave.
29th July racing event and more - click here for a report of the race and just a few photos of the day. These will also give those interested a good idea of the water level at the moment.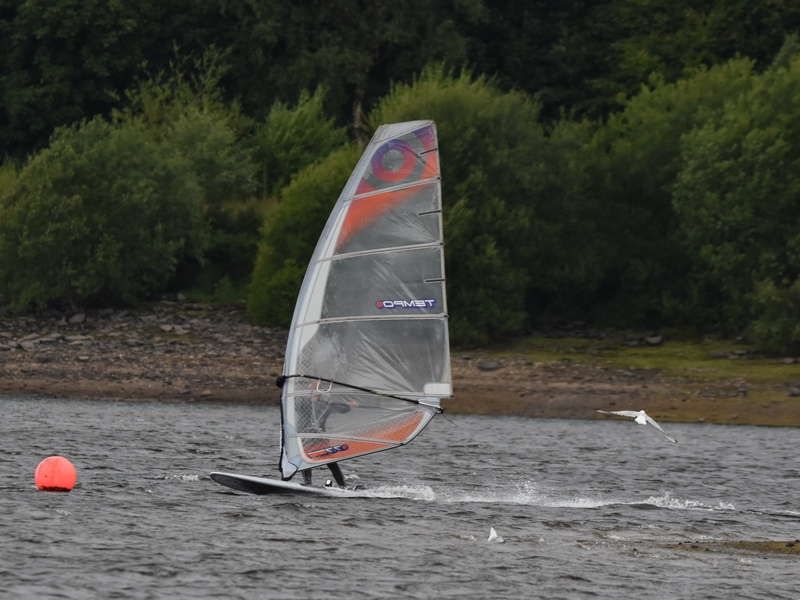 Club NIght 14th June - Storm Hector brought us some wind - see photos.
RoHo Demo day - 27th May - What an awesome day. Sorry for the delay in bringing you the rest of the photos, but here they are - click.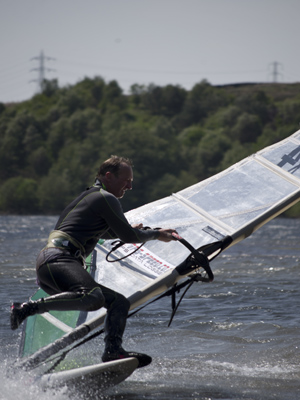 Thank you to Ben and the team at RoHo for giving up their Sunday to spend the day at Watergrove.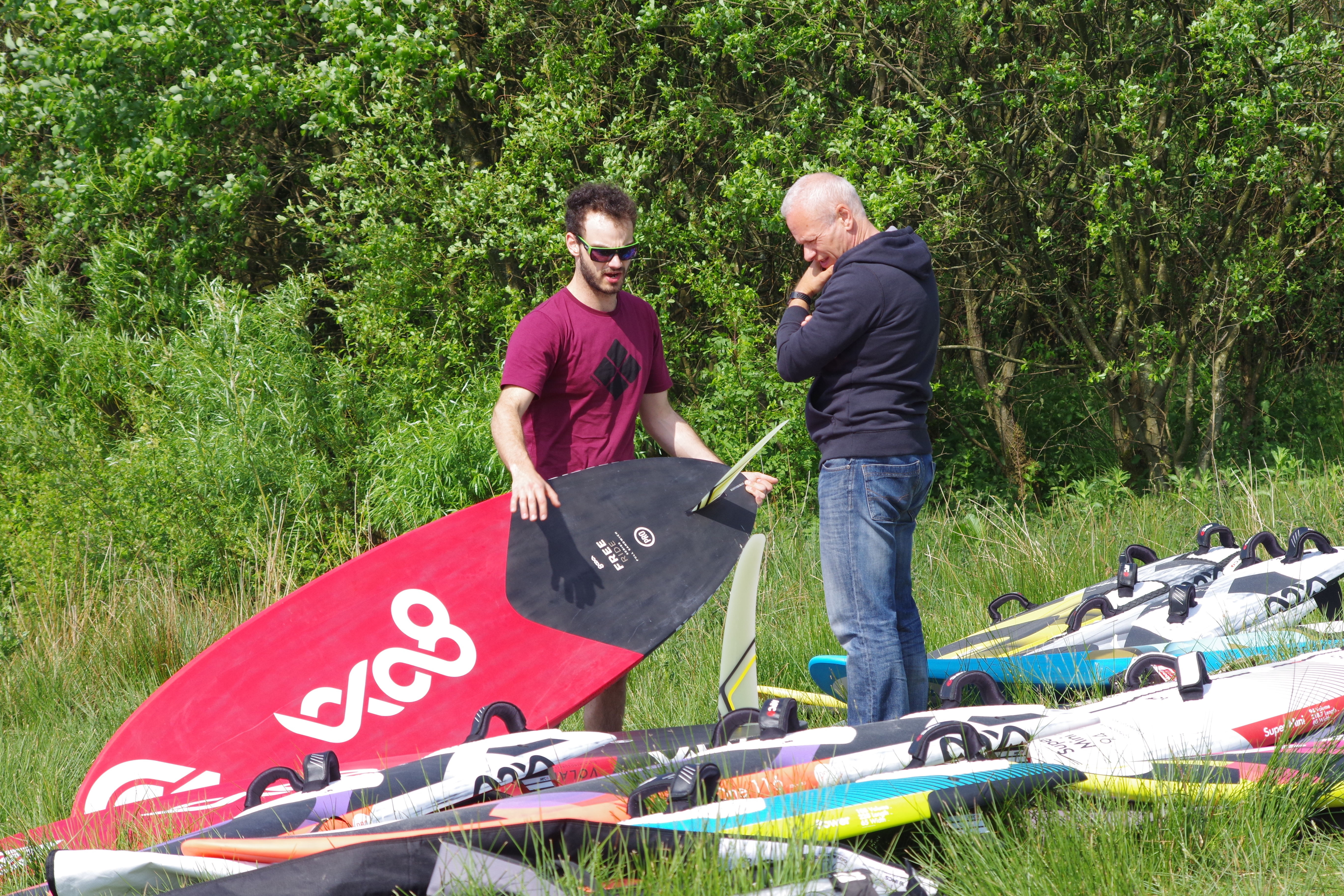 The sun shone, the wind blew and the car park was full. Thank you to all that attended, we hope you all enjoyed your day. Here are a few pictures from the day, more to follow.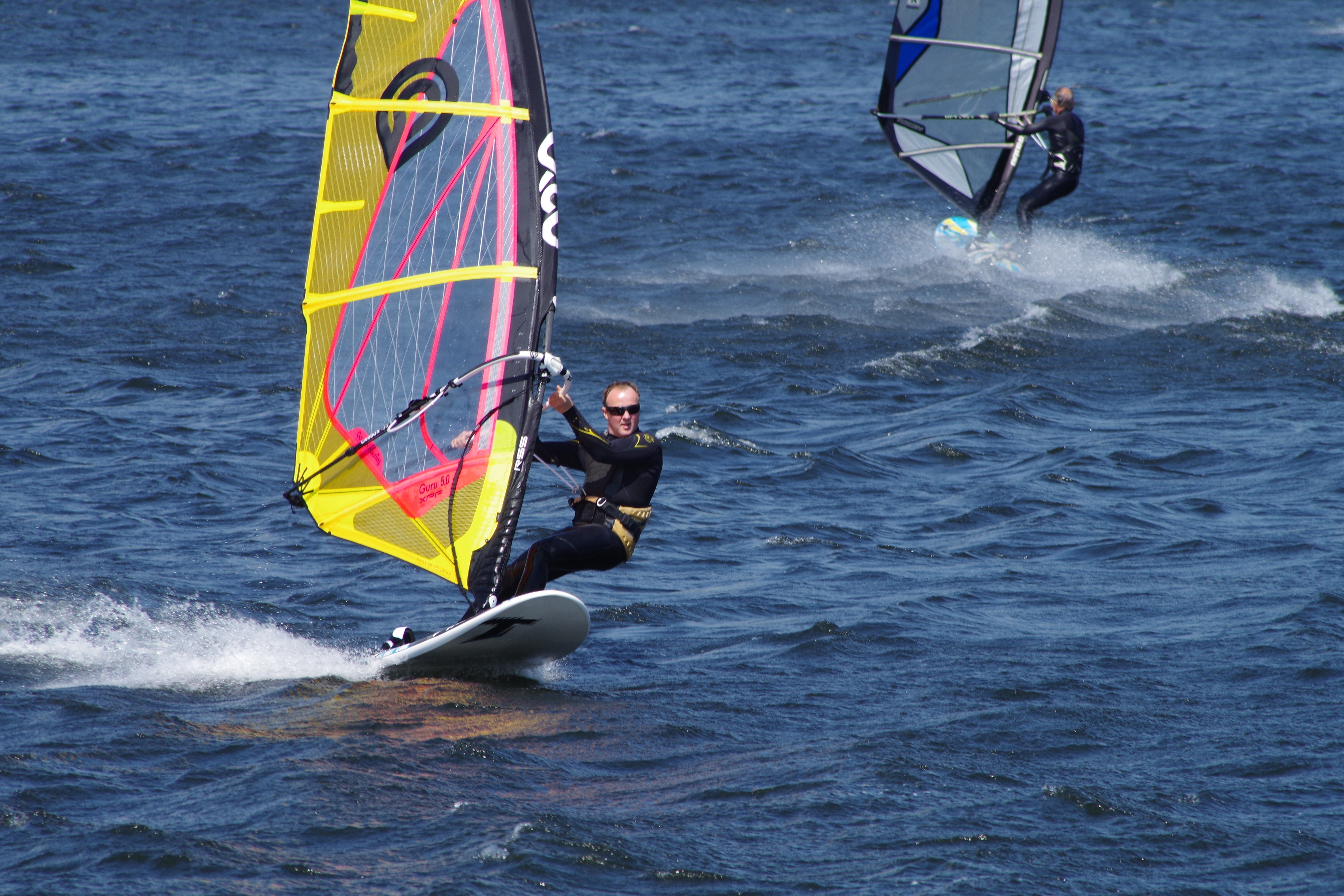 Recent Action - see more photos here.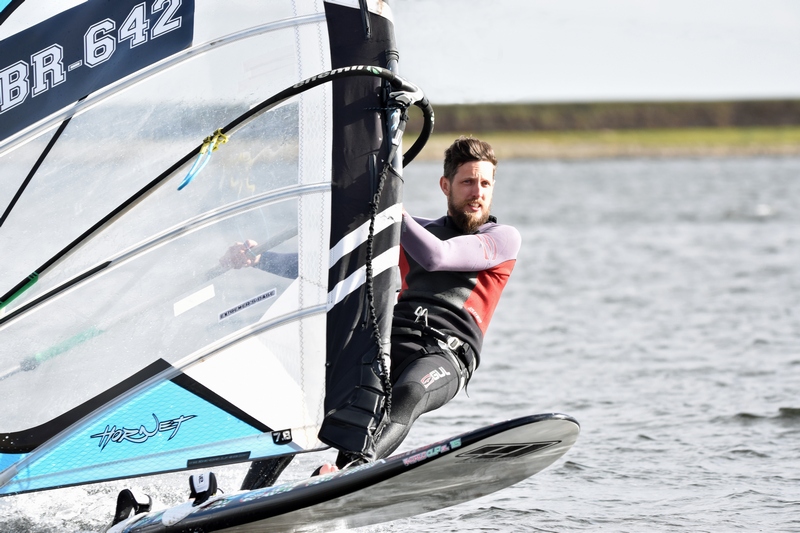 Gybe Clinic - Dave Martin began the session in the clubroom by explaining the gybe and what should be happening as you go round the turn. He also demonstrated some good and not so good points from video taken on Thursday evening of him and John Lymer. Dave Monks took this and you can see it on our Facebook page. This really helped to show the aims, what should happen when and how to improve it a bit when it doesn't happen quite right. Dave used the shore based simulator to demonstrate some more points about posture, foot change and rig flip. We then took to the water and practiced a mix of planing and non-planing gybes with a bit more video, this time by Andy Pepper.
Weather Links - the BBC now gets its forecasts from Meteo Group. Since this change the forecast often shows the wind as low as 8mph, but describes conditions as breezy! The wind speeds don't seem to match real life or other forecasts, so we've dropped the BBC link in favour of one for the Met Office. Whitworth is the nearest place of a similar elevation to Watergrove that the site recognises, so we've picked that. Let's see how it goes.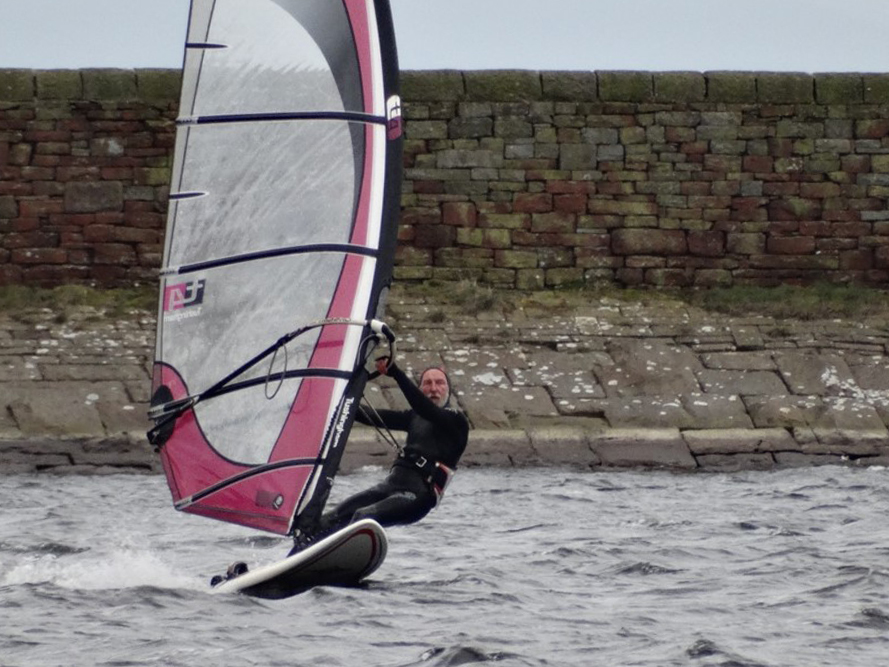 Welcome and a big, big thank you! Welcome to new committee members Dave Monks and Jason Yeomans. And a huge thankyou to outgoing committee members David Kerr and Paul Norman for their many years service each!
David Kerr was unable to attend the re-scheduled AGM, but we managed to get him along to the Club on 15th April. We adjourned a committee meeting to present David with a gift from the Club to recognise his long and distinguished service - 2 engraved sherry glasses and a bottle of the appropriate hooch. The gift went down very well - and hopefully the sherry will too! Although having less stamina now, David has decided to re-join and expects to sail from time to time.
AGM 7th April - see a summary of what went on at the Annual General Meeting here .
28th January - a challenging session! See more here.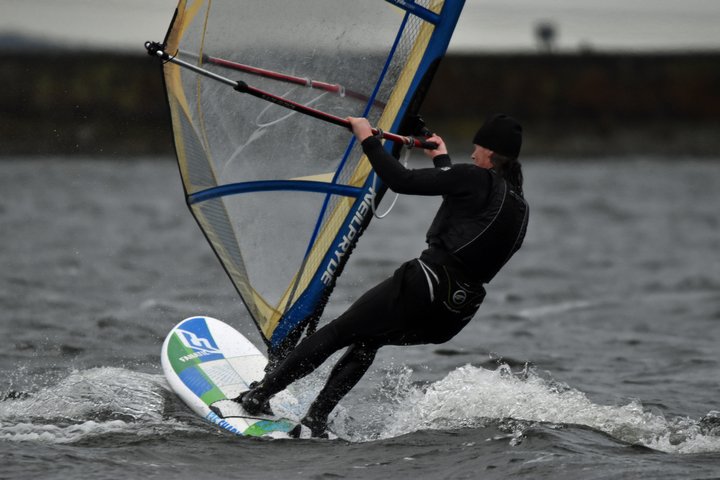 Bjorn Dunkerbeck - see his latest 51 knot speed run on the Luderitz Canal in Namibia on 15th November. That's about 59mph and very close to the current world record!
Want to give foiling a try? You can get a 2 hour lesson for E75 at Costa Teguise, Lanzarote. Good value when you realise they use pure carbon foils costing E2600 and that's plus the cost of the board! Apparently water-starting isn't recommended, as the foils are so sharp you can get cut very easily. There's a technique to getting out through waves too. Or how about this bizarre pedal powered gizmo?
Fleetwood 28th Oct - 7 members and 1 friend made the trip to the coast. There were 3 or 4 locals out too. 14C, grey sky and cross-shore (Westerly) wind in the high teens to mid 20s mph. Sail sizes to start the day were around the 6.5m mark. Some stuck with that while others changed down. Some grumbled about it being choppy. That's because it was a neap tide, so not as low (this spot is best sailed either side of low tide) as on some previous visits. We're now nursing a sore shoulder, back and knee - that's 3 of us not one very unfortunate person! Oh and I've now got a very bent boom! We've added Darren's speed on the Speed Ladder .
A great day out at Fleetwood - read about an earlier visit here and see the photos which are now using our new 'gallery' display.
Happy Summer Sailing - click here for a sample of what went on on Saturday 12th August.
Speed - now that Andy Pepper has scored a 32.6mph at Watergrove on big kit, including a 20 year old board, will that prompt some others to dig out their GPS? Our Speed Ladder shows speeds of mid-20s to mid-30s mph. Those seems readily beatable given a world record of 61.3mph. So come on, what are you waiting for?!
NWWA racing 30th July - Dave Martin managed 4 wins from 4 races. Our thanks as always to those who gave up time to help with running this event on the day. Read more here .
Sunday 11th June - see photos here .