Details

Last Updated: Sunday, 28 January 2018 22:22
Latest Happenings ....
28th January - a challenging session! See more here.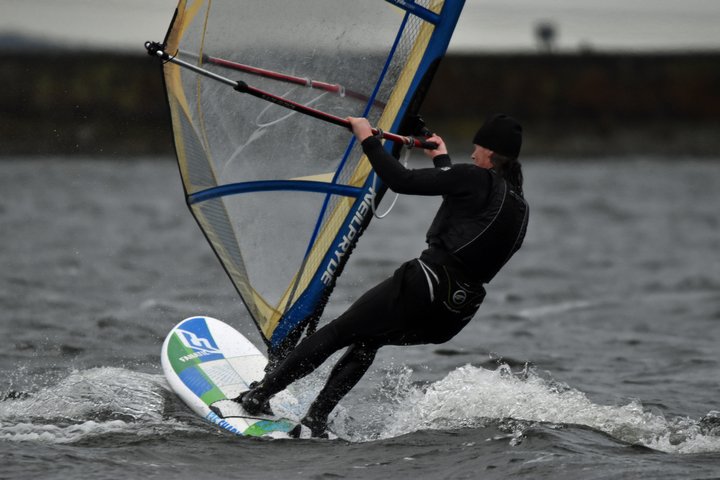 How low will you go? My temperature threshold for winter windsurfing has dropped from 10C to 7C over the years. I must be a softie though. Several sailors rigged up at 10.30am on Sunday 7th January when some of us arrived for a committee meeting. The temperature was just 2.5C. Now that's dedication!
Bjorn Dunkerbeck - see his latest 51 knot speed run on the Luderitz Canal in Namibia on 15th November. That's about 59mph and very close to the current world record!
Want to give foiling a try? You can get a 2 hour lesson for E75 at Costa Teguise, Lanzarote. Good value when you realise they use pure carbon foils costing E2600 and that's plus the cost of the board! Apparently water-starting isn't recommended, as the foils are so sharp you can get cut very easily. There's a technique to getting out through waves too. Or how about this bizarre pedal powered gizmo?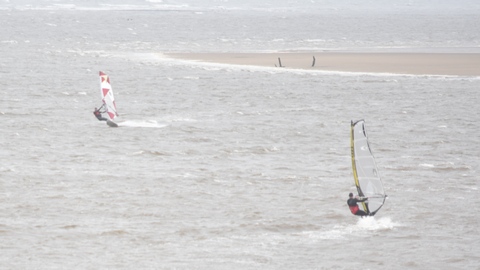 Fleetwood 28th Oct - 7 members and 1 friend made the trip to the coast. There were 3 or 4 locals out too. 14C, grey sky and cross-shore (Westerly) wind in the high teens to mid 20s mph. Sail sizes to start the day were around the 6.5m mark. Some stuck with that while others changed down. Some grumbled about it being choppy. That's because it was a neap tide, so not as low (this spot is best sailed either side of low tide) as on some previous visits. We're now nursing a sore shoulder, back and knee - that's 3 of us not one very unfortunate person! Oh and I've now got a very bent boom! We've added Darren's speed on the Speed Ladder .
A great day out at Fleetwood - read about an earlier visit here and see the photos which are now using our new 'gallery' display.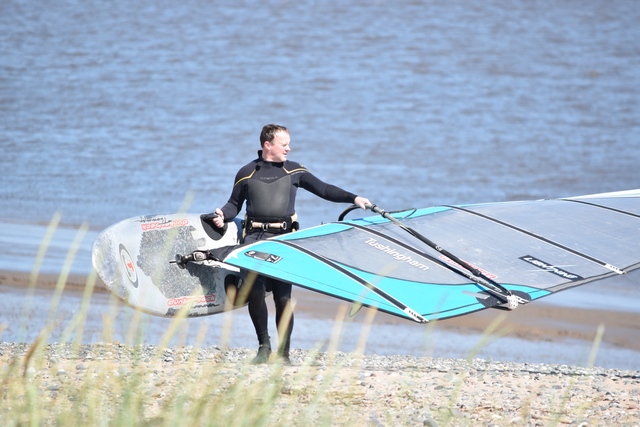 Working Party 14th Oct - 10 of us turned out. The clubroom floor was sanded and prepared for painting, we lopped and trimmed back all sorts of vegetation around the car park areas and cleared all the vegetation from the cobbled track leading to the slipway. Not a bad effort! Since 14th Oct we've now finished painting the clubroom floor. The road still needs some work though.
Happy Summer Sailing - click here for a sample of what went on on Saturday 12th August.
NWWA racing 30th July - Dave Martin managed 4 wins from 4 races. Our thanks as always to those who gave up time to help with running this event on the day. Read more here .
Speed - now that Andy Pepper has scored a 32.6mph at Watergrove on big kit, including a 20 year old board, will that prompt some others to dig out their GPS? Our Speed Ladder shows speeds of mid-20s to mid-30s mph. Those seems readily beatable given a world record of 61.3mph. So come on, what are you waiting for?!
Club Night 27th July - another good planing session on 7.5m sails. This was the last of these sessions as we said we'd run them just in June and July. We'll be collecting your thoughts about what you'd like to see for next year though.
Sunday 11th June - What a great session! The wind dipped early afternoon before and during some rain, but it came back stronger than before so there was plenty of SW 20 mph+ and even a bit of sun. The wind averaged 18mph (top of F4) for the day and a 38 mph gust (top of F7) was recorded. Of the 15 or so sailors it was especially good to see 4 new members on the water - Tomasz, Dave, John and Jim - welcome to WPWC! Some photos are here .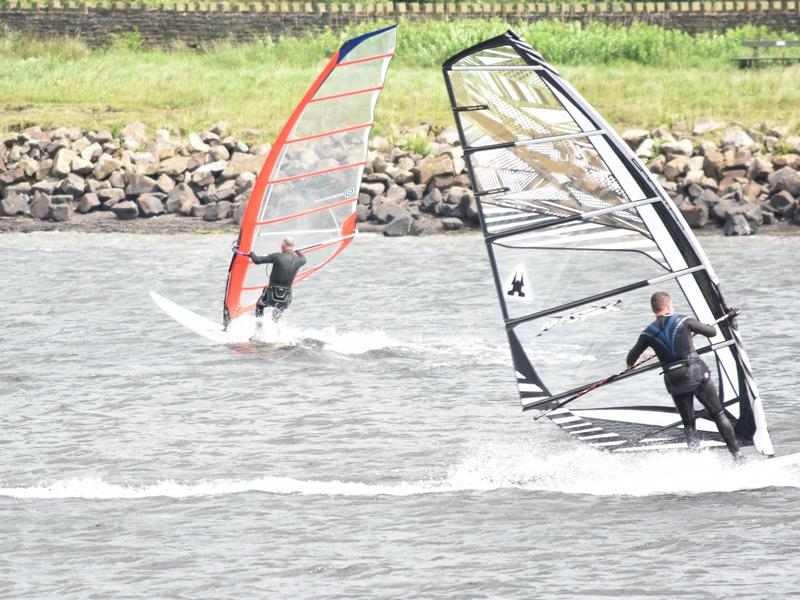 Racing 28th May - 6 competitors took part in this NWWA regional event. Wind was W to NW, variable and mostly light, though it did allow occasional planing. After 4 races 1st place was awarded to Ralph Sibley, 2nd to Mike Escreet and 3rd to our Dave Martin. Our thanks to Pete George and Andy Pepper for manning the boat throughout the event.
May Working Party - many thanks to the 8 members who turned out to clear weeds from the paved area around the clubhouse, cleared clubhouse gutters, did some boat maintenance, mowed the grass and scrapped the old mower. We'll not name here the one tasked with bringing barbecue provisions and forgot! We'll do better next time. We hope more of you will help then and/or any time you visit.
Galley - will be unlocked from now on. It has a new hot water supply - many thanks Dave Martin for that! The microwave, kettle, toaster and box with tea, coffee, sugar and biscuits are all now in the galley. There's a new 2 burner electric hob too.
Robin Hood Demo - light wind through the morning of 6th May didn't bode well for the event. Thankfully, the wind picked up enough for planing in the afternoon and we got to try some very nice new kit provided by the shop - read more here.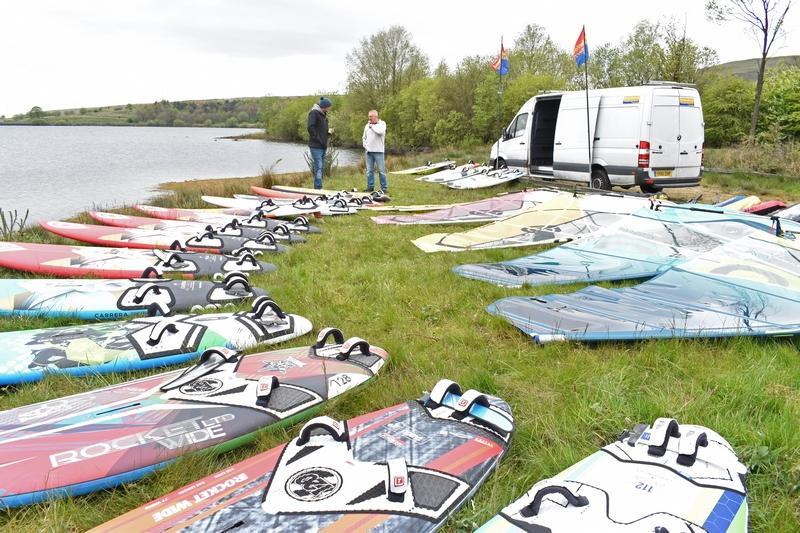 May Day weekend - great session on Sunday 30th April. Strong Easterly wind, some sunshine and solid planing through the afternoon. Read more and see the photos here .
Easter - here's the photos from Saturday 15th April.