Details

Last Updated: Sunday, 07 May 2017 09:46
This event was orginally pencilled in for Sunday 1st May but Rick from Robin Hood Watersports had sliced the tip of one finger off shortly before and that's not good for rigging (and other things)! No worries - the demo kit day was postponed to Saturday 6th May and it was windy the whole week running up to the event. Mostly Force 5 or 4 from an East or North East direction so everything looked promising. Andy from Robin Hood had all the kit rigged and displayed before 9.45am - great. We're not such early risers though. On the day the wind was from an ENE direction, but for a while it didn't deliver the speed that we expected from the forecasts. The first sailors ventured out about midday in wind that was still very light, but got some short planing runs in during the gusts. Some members and visitors left around then, having decided that there'd be no planing to be had - mistake! Around 1.30pm the sun came through for a bit, signalling an improvement in the wind and the mood of the assembled throng! Suddenly there were another half dozen sailors wanting demo kit and more followed later. Conditions were still on/off - sub 10 mph up to 20mph perhaps, but there was much more planing getting done and more people doing it.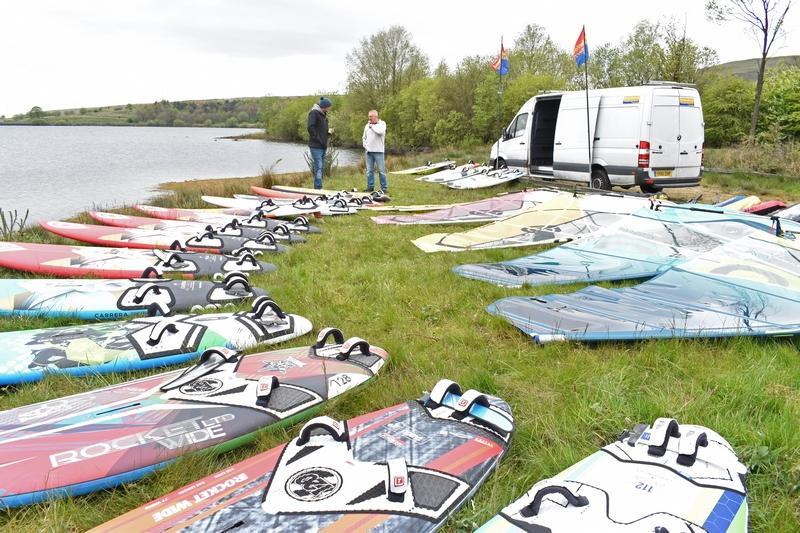 Robin Hood provided a wide range of some very nice, very new kit for us to try. Much of it by Goya, but with a smattering of JP, Tabou, Neil Pryde and Point-7 and maybe more besides. The star board (excuse the pun) was probably the JP Super Light Wind. 165 litres and 235cm by 92cm, with cut outs at the rear for better planing. This still needed enough sail area to get it going, but it's very light and really early to plane. You do have to reach back/out a long way to find those footstraps though! Many of us tried this one and it seemed to go down well. I tried a Goya Mark 7.2 freerace sail - rigged on a high carbon content skinny mast and with a carbon boom that seemed to have narrower diameter tubing than my usual aluminium. It was light and quite flat but powerful for its size and the fluky wind. The Neil Pryde Ryde 7.7m was popular with our sailors though I didn't get to try that. I did try a Goya Volar 130 (freeride) and Goya Bolt 135 (freerace) board. The Volar was very easy to sail and the Bolt was a bit more exciting, especially with my own twin cam 8.5m sail which I made the mistake of rigging just as the wind picked up!
Many thanks as usual to Robin Hood and to Andy for providing a lot of kit for our members and visitors to try and for answering the inevitable questions about rigging our own kit. We can never guarantee perfect conditions, but the wind came just about good enough in the afternoon. We hope this translates into some business for the shop. It certainly helps us to see how boards and rigs change over time and for us to pick out that next item on our wish list!
--- And if you missed this event, or simply want more of the same, Robin Hood are doing a large demo event at Fraisthorpe (near Bridlington) 13th/14th May.